Pancakes, flapjacks or griddle cakes are an old favourite for breakfasts and snacks and the kids love them as well! They are quick and easy to make but the traditional recipes usually use high FODMAP wheat flours. This recipe is a delicious and simple alternative with the added benefits of extra fibre. There are many toppings that you can add depending on your mood and taste, the only limit is your imagination (see the tips below for some suggestions)!
Ingredients:
Makes 6 serves, 12 pancakes (9cm diameter)
1 cup (100g) rolled oats 

1/3 cup (40g) unprocessed oat bran

3/4 cup (100g) rice flour 

2 medium eggs

1½ (150g) unripe bananas (see our app)

200ml low fat milk (lactose free if required) + extra if required

2 tsp baking powder 

3/4 tsp Dutch cinnamon (optional)

1 small pinch salt
Method:
Weigh or measure all dry ingredients into a food processor, blender or Thermomix and process until they are fine.

Add the bananas, eggs and gradually pour in the milk and mix until the mixture has a slightly runny consistency. Add more milk if required.

Rest batter for 15 mins. Note that the mixture will thicken during resting so add more milk if it is too thick to spoon into a frypan.

Heat some butter and/or spray oil in a frypan over a medium heat.

Spoon the mixture (about 2 tbsp per pancake) into the frypan to form ~9cm pancakes.

Cook until bubbles start to form on the top (reduce the heat if required to prevent burning).

Flip and cook ~ 1 min on the other side (pancakes should be golden on both sides).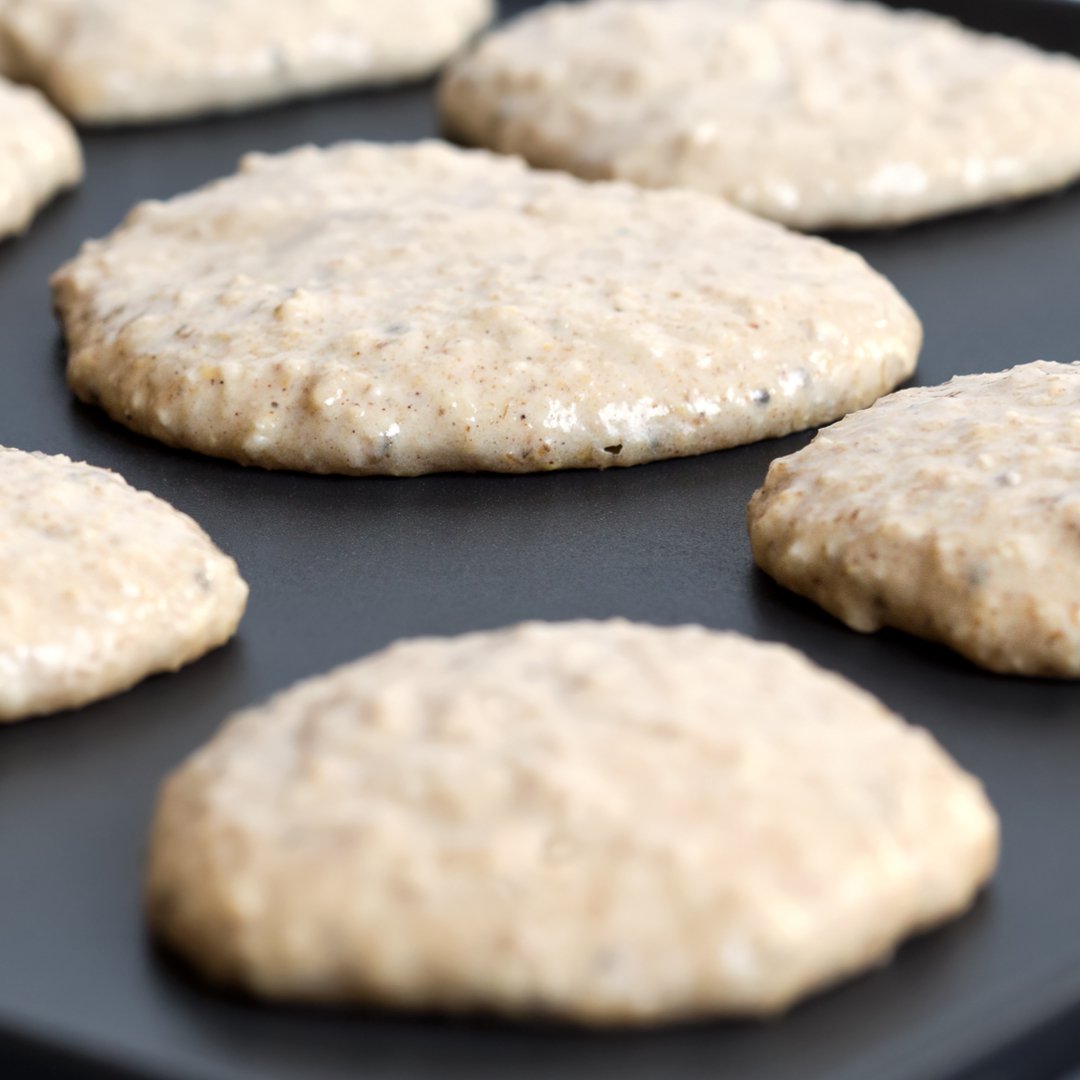 Tips:
Pancakes can be frozen for quick and handy snacks or breakfasts. Place small squares of baking paper between each one and freeze in a snap-lock bag 
For the best results to defrost and reheat, remove the required number of pancakes from the freezer, loosely cover and microwave for about 30-45 seconds. Heat the frypan over a medium heat and cook pancakes for about 30 seconds on both sides 
Use a non-stick or well seasoned frypan to prevent the pancakes from sticking
Serving suggestions:
Top or sandwich with low FODMAP fresh fruits such as grapes, kiwifruit, strawberries, blueberries etc.
Drizzle with pureed fresh fruit and serve with lactose free yoghurt
Panfry unripe banana slices in a bit of butter and brown sugar until caramelised
Drizzle with pure maple syrup
Spread with peanut or macadamia nut butter
Top with cottage cheese and a fruit selection
Top with chevre cheese and sautéed spinach
*Make sure you check the Monash low FODMAP app for serving sizes of your choice of toppings*