SPUDS! SPUDS! SPUDS!
Dr Marina Iacovou - Research Dietitian, 26 November 2015
Ever find yourself stuck for ideas when catering for a crowd or wondering how to get the kids to eat a variety of foods?  Choosing a suitable meal can be particularly difficult when you also need to consider other people's dietary needs, which might be influenced by:
Likes and dislikes

Food intolerances

Food allergies

Re-introduction/re-challenge of food (eg, FODMAP re-introduction phase)

Vegetarians / Vegans / Pescatarians

Religion
What do you need? Baked potatoes and a table full of ingredient toppings!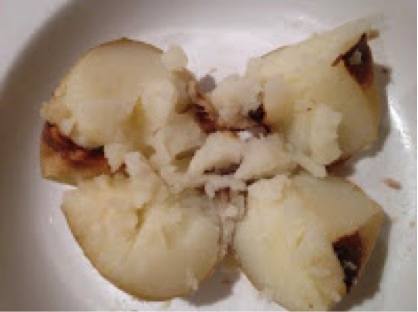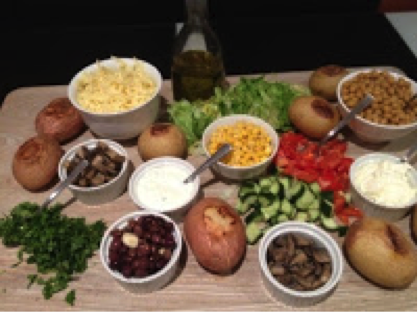 Pre-heat oven to 200

0

C

Wash potatoes and pat dry with a paper towel or a clean tea towel

Pierce potatoes with a fork or a knife 2-3 times

Place potatoes on a flat oven tray and bake with skin on

Cooking time approximately 1hr or longer (depends on their size)

Insert skewer to test for readiness/softness

Once cooked, cut a cross on the top of the potato to open it up and then add your choice of toppings

Include sweet potatoes – for those without IBS or to try during re-introduction phase

This meal is always a winner in my house. It works wonders with the kids, extended family, friends and importantly, the IBS sufferers in our lives.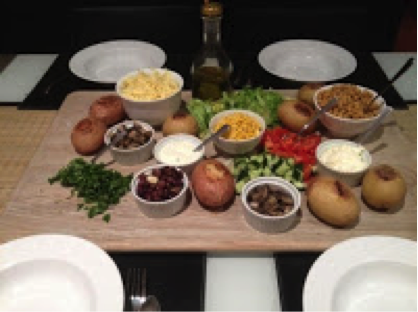 Pic 1: On the board: Freshly chopped coriander, grated mozzarella cheese, marinated olives (marinade: https://www.monashfodmap.com/blog/cooking-with-onion-and-garlic-myths-and/, lemon and coriander seeds), cucumber, tomato, lettuce, sour cream, https://www.monashfodmap.com/blog/low-fodmap-homemade-tzatziki-serves-lots/, mushrooms, corn kernels, drained canned chickpeas.
Low FODMAP serving suggestion:
Pic 2: The lot! But with only a ¼ cup serve of canned chickpeas and < ½ cob of corn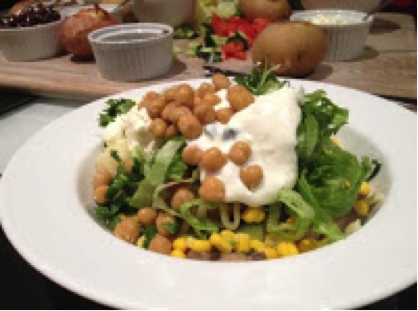 Non-low FODMAP serving suggestion
Pic 3 and 4: Made by my 4 year old: Tuna, yoghurt, cheese, corn, mushroom, cucumber, lettuce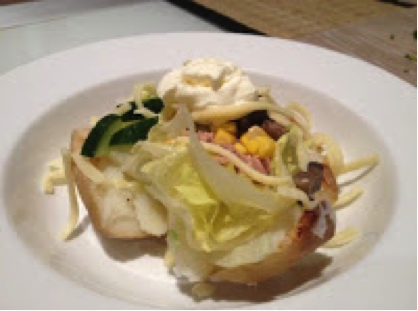 This 'create your own' style of meal is  great for a number of reasons. It can:
suit kids trialling the low FODMAP diet;

encourage independent feeding and improve fine-motor skills;

encourage kids to try new foods 

increase the chance children will eat their meal (good for fussy eaters);

suit people re-introducing higher FODMAP foods;  

allow for family-catch up time, and

enable parents to role-model healthy eating habits
It's a win-win for everyone - enjoy!