(Serves 6)
2 litres of chicken stock (see tips)or water

4 small stalks (125g) lemongrass (trimmed, belted with a hammer and cut into ~10 cm lengths)

2.4 cm chunk (20g) galangal (thinly sliced)

8 large (10g) kaffir lime leaves

4 (5g) bird's eye chilies (pounded or blitzed) (to your taste)

3 tbs (75g) tomato paste

1 large bunch (100g) coriander, stems and leaves (well washed and roughly chopped)

3 tsp (10g) sugar

4 tbs (80g) fish sauce (to your taste)

3 tbs (30g) lime juice (to your taste)
Method:
Place galangal, lemongrass, crushed chilli, tomato paste, coriander stalks and roots and the kaffir lime leaves in a pot. Add the water or stock and bring to the boil. Reduce the heat and simmer (uncovered) for 20 minutes.

Strain the soup through a fine sieve, discard the solids and return liquid to the pot. Reheat until it is simmering then add the sugar, fish sauce and lime juice to taste.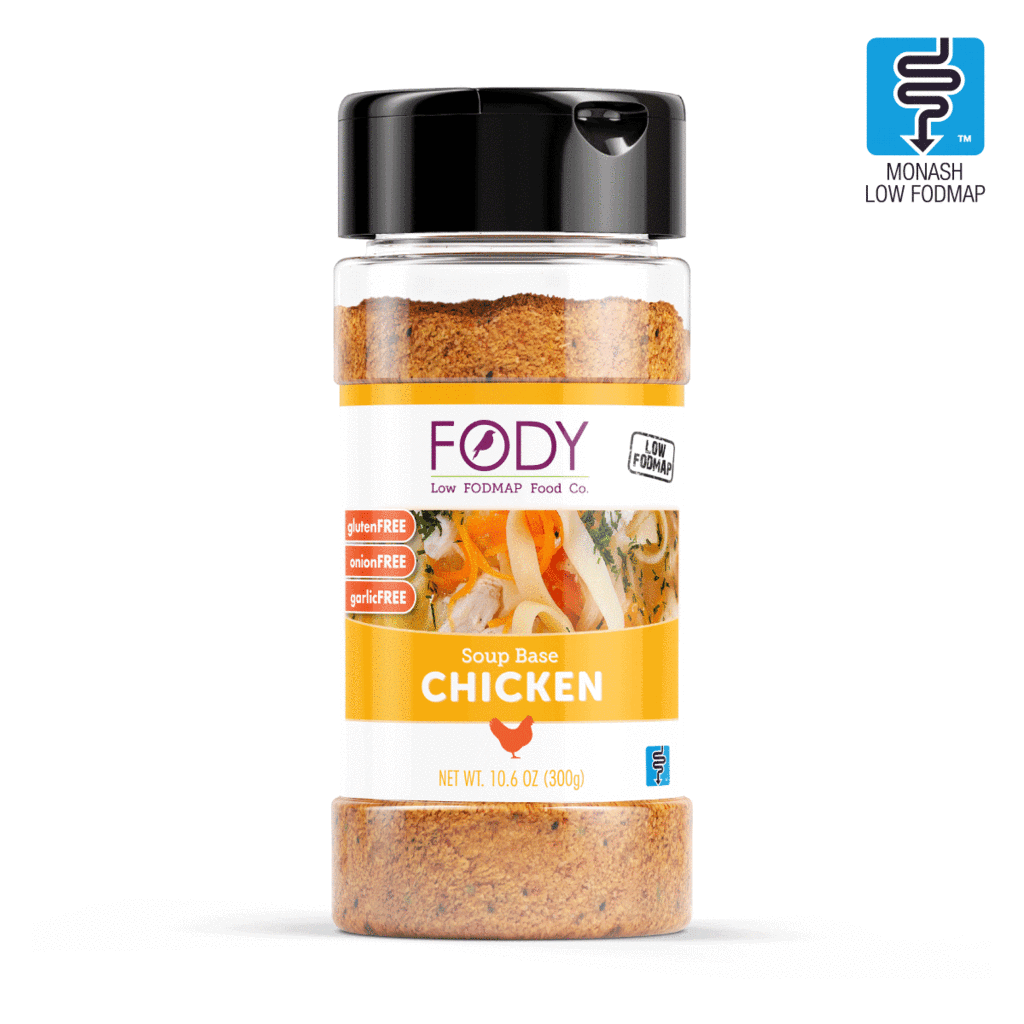 Tips:
See our previous blog for a low FODMAP chicken stock recipe (26th May 2017) or you can use a low FODMAP chicken stock/soup base such as our Monash Low FODMAP certified Chicken Soup Base from FODY Food Co: https://thefodyshop.com/collections/all/products/chicken-soup-base 
Serving suggestions:
For a more traditional soup add some diced tomato, coriander leaves and sliced spring onion tops after straining

Add chicken, prawns and/or hard tofu

To each serving bowl add, cooked rice noodles (warm), broccoli heads/flowerets (blanched and warm), bok choy leaves, carrot strips (use a vegetable peeler) or any other low FODMAP veggies you fancy (use our Monash app for ideas and serving sizes)

To garnish, top with bean sprouts, coriander leaves and serve lime wedges and extra chilli on the side

The soup can be frozen for a quick and easy meal

To make a vegetarian version use water, substitute the fish sauce with soy sauce and add tofu

There are many fish sauce brands available and there are vast differences in their quality and taste. The Vietnamese and Thai brands tend to be less fishy and have more umami

Some of the ingredients can be expensive in regular supermarkets. However, they are readily available and usually much cheaper in South East Asian grocery shops. Excess ingredients such as galangal, lemongrass and kaffir lime leaves can be frozen and used when required.